DIVING SITES: AMED
Leaving from the main office of Atlantis International, located in Sanur (Denpasar), you will make the 2 hours journey to Amed in an air-conditioned bus. Amed is a fisherman village located on the North East coast of Bali, not far from Tulamben. Jemeluk Bay extends along a beautiful black sand beach, fringed with restaurants and small, charming hotels and villas. The village is quite spread out along the coast and is made up of several bays, which are all sheltered from wind and waves, and are favorable for diving.
Relaxing and authentic in atmosphere, the diving is accessed from a traditional boat called a jukung (similar to a large canoe with stabilizers on either side). From its paradise-like, crystal-clear waters, its traditional salt-makers, and its view of the Mount Agungvolcano, Amed is sure to give you a feeling for the traditional, time-honored culture.
The rich biodiversity of the sea floor attracts underwater photographers, naturalists, and divers that are passionate about marine biology. Amed is recommended for the particular atmosphere of its wall dives, as well as the coral plateau found at Jemeluk, which is known for its gorgonian-covered coral bommies and advantageous sunlight that is a dream for photographers.Macro-lovers will be delighted to see the famous pink pigmy seahorse (Hippocampus bargibanti Whitley).
Bali is at the heart of the Coral Triangle which contains more than 3000 species of fishes and 700 species of corals that populate the oceans and seas of Indonesia. These seas are also rich in plankton due to an important current that connects the Indian and Pacific Ocean. This incredible sea life is waiting for you !
PIGMY SEAHORSES
Pygmy seahorses belong to a group of fish that are no larger than 1- 2.7 cm in height. Around Bali, we find two species of pygmy seahorse, the Bargibanti pygmy seahorse, and the Denise pygmy seahorse. They each live respectivelyon two distinct species of gorgonian, and will stay exclusively on a single gorgonian for the duration of their life. This is why their habitat is extremely delicate and important. The fragile gorgonians are easily damaged if we touch them. Even the action of waving our hand around next to it, will cause the polyps that filter nutrients from the water (the method is "eats"). The size of the pygmy seahorses makes them very vulnerable, and there are numerous dangers that threaten the pygmy seahorse. They are already listed as an Endangered Species by the IUCN (International Union for Conservation of Nature), even while they remain a largely unknown species. The biggest threat to their existence is the destruction of their habitat and the impact of divers. An ethical code of conduct now exists in many dive centers in Indonesia (Dr. Richard Smith) for diving to see the pygmy seahorse.
The goal of the "Code of Conduct" is to reduce the negative impact that divers make on these rare animals:
Do not touch the pygmy seahorse (we could kill it)
Do not touch the gorgonian (it's delicate and grows slowly)
Do not use the light of a torch or strobes (these cause stress, and can blind and overheat the poor seahorse, as well as burn the gorgonian it lives on)
Control the position of your fins and the position of your camera
Control your buoyancy and the position of your exhaled bubbles
5 photos maximum per dive
Do not use artificial light for video
Do not visit pygmy seahorse during a night dive (they are sleeping)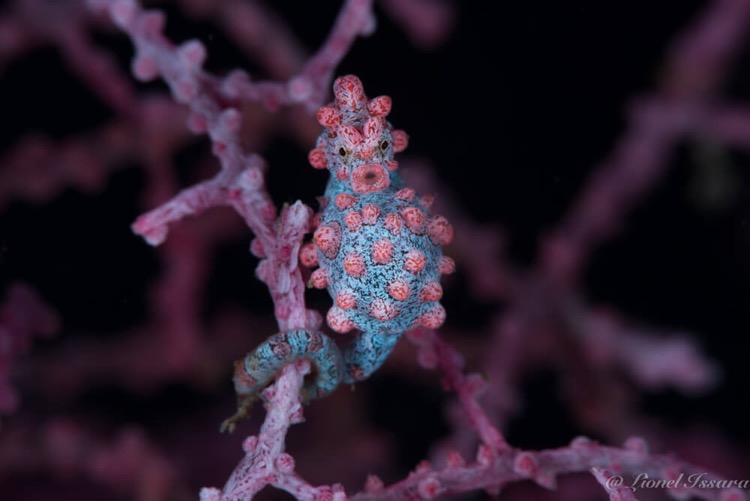 AMED WALL AKA JEMELUK
Just on the outer edge of the coral reef, you will enter the water after a quick 5 min boat ride in a jukung traditional boat. The current here is often calm, and the dive is conducted along a vertical wall with a maximum depth of 40m.
Gradually you will make your way along the steep wall, passing giant and ancient gorgonians that cover massive rocks, multicolored fish darting about in the blue, trevally hunting for their next meal, and observing you from beneath your fins is the tiny pink pygmy seahorse, at a minuscule height of 6mm.
Youfinish your dive over a shallow plateau bathed in soft sunlight. From overhead, the shadow of the jukung awaits your bubbles…already, it's time to surface.
PYRAMIDS
The dive site Pyramids is just a short 10 minute boat ride away in a traditional jukung. The site is made up of numerous artificial reefs that serve as home to an incredible diversity of aquatic life. In the sand that stretches all along the reef, between 12-25metres deep, you will find dozens of pyramid-shaped artificial reefs that are magnificently colonized by a multitude of fish: titan triggerfish, damsel fish, trumpet fish, blue spotted and kuhl's stingrays, garden eels, and nudibranch. Keep an eye out for the less common but quite amusing animals such as leaf scorpionfish, ghost pipefish, frog fish, and other species of pipefish.
Here we can also encounter the pink pigmy seahorse (Hippocampus bargibanti Whitley), which is endemic to Indonesia, and camouflages itself against gorgonians of the same color and texture as its body. Measuring only about 1cm in size, it is very difficult to find! Being a very delicate fish, we ask that our divers approach the seahorse gently and carefully, turn off the light of their torch, and avoid kicking up too much sand. For those of you who enjoy the larger animals, there is also a chance to run in to turtles, reef sharks, and small stingrays.
THE BUNUTAN'S REEF
An eels carpet covers the sandy bottom in early diving. This is a dive where the current can be quite strong. Looking off the coast, we can see black tip sharks, white tip sharks, Barracudas or Jack fish (tuna family).We let the current carry on this huge site where coral gardens are over 50 meters deep. A full of surprises dive !
LIPAH BAY OR JAPANESE WRECK
Lipah is a quiet bay located 3km from Jemeluk and can be accessed by road. The wreck, about 20 meters long, is located 15m from teh beach, between a sublime coral reef ans sandy slope. Lipah or Japanese Wreck owes its names to te presence of Japanese-style toilets, but the history of this wreck is little known. It rests beteen 6 and 12 meters,and it's listed as the dive site, but because of its shallow depth, its popular with divers PMT. Its waters are rich in nutrients and there is an abundance of marine life, due to an area of strong current along the reef. The wreck lies on sand and visibility can be reduced if the weather conditions are not at their best.