DIVING SITES: GILIS
In eastern Bali, about one hour away from Sanur (Denpasar), Padang Bai is a small but lively seaside village. This is also the departure point of many ferries to Lombok, Amuk, or Gilis islands.
After 20mn of navigation, you arrive on Gili Tepekong and Gili Mimpang, two islands often exposed to north currents, which make of thoses sites unique places to see pelagics. Lucky ones will be able to meet black and white-tip sharks, barracudas, rays, and even sometimes the Mola Mola.
Thanks to the currents, the spot offers you a good visibility and the coral reef is particulary in good health. However, diving conditions can change very fast: we will wait for favourable conditions to go there. You can trust Atlantis instructors and guides who perfectly know those spots.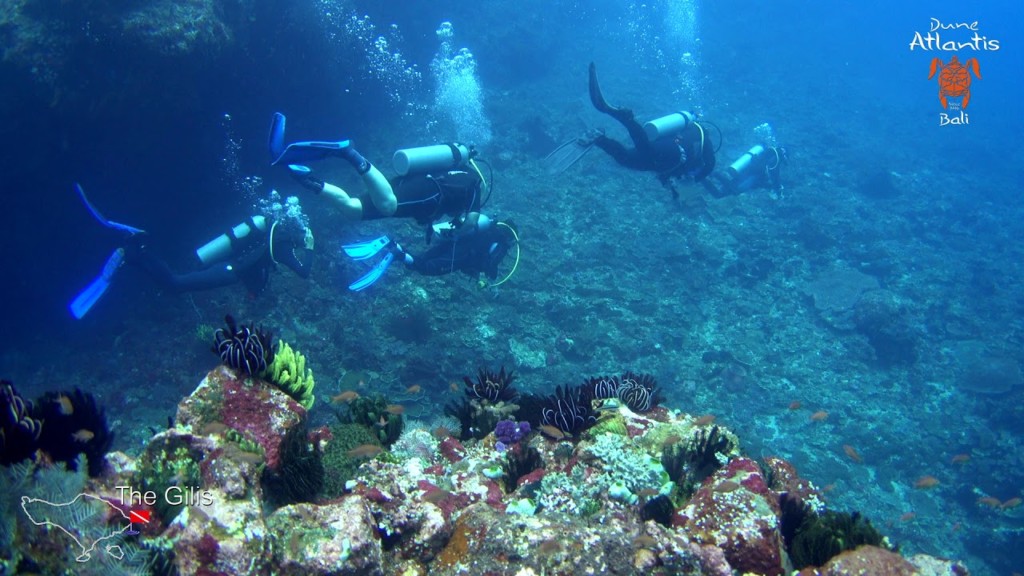 GILI TEPEKONG
Gili Tepekong is located not far from Amuk Bay and is a single island exposed to current coming from the North, making it a site exclusively for certified and experienced divers.

If the current and conditions permit, you pass through a small cave and come out the other side onto a magnificent vertical wall. Once you turn around and arrive back to the coral reef, you'll be amazed by its excellent health and beauty, and the sheer quantity of fish. There is even the possibility to see some pelagics such as black and white tip reef sharks, barracuda, stingrays, and sometimes even the jaw-dropping Mola Mola (Sunfish), particularly from July to October.

Thanks to the current, the visibility is often very good. However, Tepekong is a dive site where conditions can change very quickly and we prefer to wait for favorable conditions before jumping in and diving on this site. You can trust and have faith in the experienced dive guides and instructors of Atlantis International to keep you safe.
GILI MIMPANG
Gili Mimpang is situated between Gili Tepekong and the coast of Bali, and offers the same characteristics as Tepekong. The currents coming from the strait of Lombok are very strong, the dive conditions change here can change very rapidly, and are often extreme (down and multidirectional current—washing machine!), making this a dive site that is only recommended for experienced certified divers. No need to stress or worry though, because the Atlantis International dive guides and instructors know this dive site well.
Three small islets outline the site. At the beginning of the dive, we descend onto a plateau with a large coral bommie where marine life abounds, and little by little we make our way along the reef as it begins to slope and eventually turns into a vertical wall. If conditions allow, we continue along the wall, and at a shallower depth, make our way around the last of the three islets in order to arrive back to where we began our dive. The cold currents here (18-20⁰ C) contribute to keeping the reef in excellent health, and also make it possible to encounter pelagics such as reef sharks, barracuda, stingrays, and even MolaMola (sunfish), particularly from July to October.
GILI BIAHA
Gili Biaha is an impressive site where large marine creatures can be found. Known as Ikuan, Gili Biaha Bali diving is a rocky outcrop of Tanjung Biasputih. This bali dive site however can create problems, generating currents across and down the slope to the north has visibility 5-25m. Having deep channel and the tidal current sets strongly through it, Gili Biaha Bali diving also has 6-40m (20-130feet) depth. Rich of fascinating cuttlefish, octopus, interesting nudibranches, and the rich soft corals, gorgonians, and black corals makes your diving experience in Biaha very special. Its current brings in many fish and its slope offering a large variety of fish life making this an advanced diving site. It is also a Bali dive site for experts due to its unpredictable gusts of current. The terrain slopes gradually beyond 37m and the swell is heavy. In this Bali diving spot, there is a cave at 12 meters with white and black tip shark, lobster inside and sometimes geart sting ray and Mola Mola. Atlantis International crew suggests to always be careful and conservative.