Menjangan Dive Site
The word "menjangan" in Bahasa Indonesian means "deer," and this tiny island is named for the herd of deer that inhabit it. Located in the North West corner of Bali, close to the strait of Java, you will make the 4 hour and 30 minute journey to Menjangan in the air-conditioned Atlantis International bus. Picturesque rice fields abound, until you reach the mountainous region of Bedugul, which is known for its lakes, orchids and strawberries. A little higher into the mountains, you will stop to stretch your legs and admire the panoramic and majestic view at the summit of an ancient volcano's caldera. We then continue on our journey making a descent towards the ocean, heading in the direction of Pemuteran, the last village to pass before Menjangan.
The "island of deer" is a protected and monitored wildlife sanctuary belonging to the West Bali National Park (Bali Barat); with mangrove and beaches on one side, and stunted rocky cliffs on the other, the island shelters a rich variety of marine and terrestrial life. Mejangan is classified as one of the best places to dive in South East Asia, as the dive conditions are often optimal, characterized by light current, water temperature ranging between 27 and 30⁰ C, and visibility of up to 50 metres. Several types of dives are possible along the sheer walls of reef populated with gigantic gorgonians and enormous sponges; from deep to drift, marine biology, ambiance photography, and even snorkelers will be treated to some of the best snorkeling around Bali. Another short drive away you can find muck diving for macro-lovers and macro photographers alike at Gilimanuk Bay. With a relaxing quiet atmosphere, and being accessible only by boat, Menjangan remains a delight for those who wish to get off the beaten path of Bali.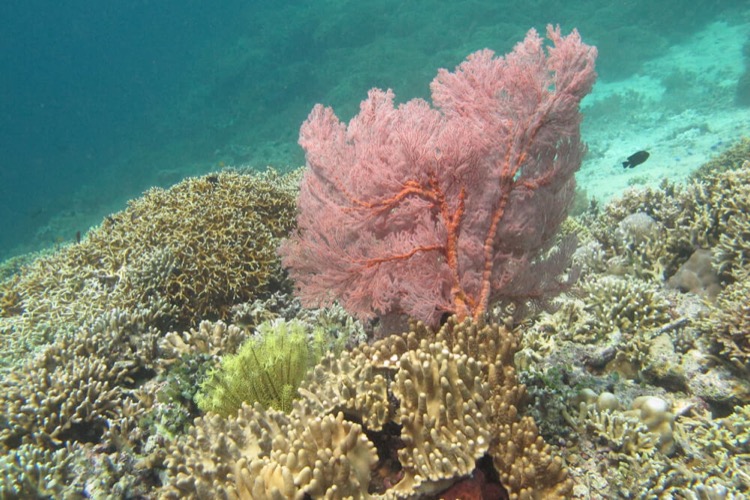 GARDEN EELS, POS 1
Menjangan is the dive destination known for having some of the most beautiful wall dives found in Bali. Its drop-offs descend from 20 to 60 metres deep and offer an incredible biodiversity, notable for its gorgonians. The traditional Balinese boat will moor up to a buoy, and once you backroll into the water and descend you will find yourself on a shallow coral reef plateau. The water is clear, and already you notice the quantity of fish and coral. As you slide down the wall, the dark blue below captivates you, the giant gorgonians reveal their bright hues of red, orange, and yellow, and the oddly shaped and tubular sponges transform into a sandy slope. On this slop you pass by hundreds of hypnotizing garden eels that undulate back and forth.
KAPAL BUDAK, ANCHOR WRECKS
The name of this site comes from an ancient wooden boat whose name and history are unknown. It seems that the boat may have been transporting slaves at the beginning of the 19th century, as "kapal" means "ship" and "budak" means "slave". Two anchors are encrusted into the sediment and sand, one of them at 6 metres, and the other at 32 metres deep. What remains of the boat is found between 35 and 50 metres deep, but the ship itself is hardly recognizable as it's completely overgrown in coral. The dive begins along a wall blotted by rifts and recesses which is colonized by an abundant marine life. As this is often a deeper dive, be careful to watch closely your depth gauge and no-decompression limits. Lucky divers might see eagle rays or even whale shark.
POS 2
Next to one of the island's tiny piers, which are also used as the national park's control stations, is where you can climb down from the boat to enjoy lunch on the small beach at the water's edge. After lunch, back to the ocean we go. Once underwater, you descend onto a spectacular wall that descends to depths greater than 60 metres, and contains small alcoves, caverns, and vertical fissures that run through the reef. The atmosphere here is distinct as the sun behind you casts mood shadows , the infinite blue is dark in color, and certain large caverns become illuminated cathedrals thanks to openings in the ceiling that create natural skylights. This particular lighting attracts the interest of most ambiance photographers and makes for some stunning images.
Among the dozens of cavern-like openings along the wall, we search for "electric clams" (Ctenoides ales), which are a species of bivalve mollusk. This mollusk is actually quite difficult for most divers to spot, although its exterior is bright orange-red, and lined with long fine tentacles of the same color. Just inside the opening of the mollusk, there is a strip of blue and white iridescence that can only be seen by the light of an underwater torch, but reminds us of an electric arc.
This site can be a bit more exposed to currents and is often considered to be a drift dive. Thermoclines are also a possibility and can sometimes bring with them larger fish like whale shark. This dive endsovertop of a shallow coral plateau that borders the entire island.
BAT CAVE
We begin from the Pos 2 pier and drift around the end of the island, just next to an abrupt wall that's exposed to the deepest waters around the island. Many schools of fish swarm the reef as well as the blue, and if you're lucky you might cross paths with some pelagics such as barracudas, white and black tip reef sharks or even whale sharks. The dive site is named for the caves that are found on the surface.
PURI JATI LOVINA
Situated not far from Lovina, this safari site is loveable and enjoyable to dive. Even this dive location is similar to Seraya, Gilimanuk or Lembeh, it has its own unique characteristic. The topography of this spot is dark volcanic sand with some seaweed and soft coral. The mimic octopus and other rare species of octopus occupy this place. Sometimes the dolphins come out to suprise you. Fabulous diving stories regularly come from divers who have already dived there. Puri Jati is also famous for its underwater photography. Macro photography is able to be taken there even in the night. With capturing frogfish, dragonets, seahorses, nudibranches, ambon scorpion fish and devil fish, your entire diving experience will guide you to an unforgettable memory. Atlantis International crew will accompany you to have an attractive safari experience.