Nusa Penida Dive Site
The island of Nusa Penida is known world-wide for Manta rays and the Mola Mola, more commonly known as the Sun fish. Nusa Penida is the least populated of the islands situated just east of Bali. The islands of Lembongan and Ceningan are much more developed, with their beautiful white sand beaches and their numerous seaweed farms, producing enough seaweed for food production and exporting it for cosmetics.
Nusa Penida is the largest and by far the least developed of the three islands. Dune Bali speedboats will introduce you to the breathtaking views of the island as you pass impressive rocky cliff-faces, enormous waves crashing upon white sand deserted beaches, tropical forest and arid plant-life mixing together with sheer walls that descend into the depths of the sea. And then you arrive at Manta Point, where beneath the surface lies a "cleaning station" frequented by Reef Mantas (Alfredi Mantas) or Mola Mola. Dive into crystal clear blue waters to explore the incredible coral reefs surrounding the island of Nusa Penida. Home of the famous Manta Rays, untouched corals reefs, turtles and Mola Mola. During the Mola Mola season there are many Mola Mola's in this particular site.
On the other side of the island, you will find the not-to-be-missed dive site of Crystal Bay. Here, between June and October, you can marvel at the incredible Mola Mola (Sun fish). The Mola Mola can grow up to 3 metres. Nusa Penida will never fail to blow you away; there are a myriad of dive sites and the corals are in excellent health.
Cold currents rising up from the deep allow for good visibility and preserve the coral reef. At times, these thermoclines are as cold as 16 ⁰ C, and encourage pelagic life to swim up from the deep where divers can catch a glimpse of some of these amazing fishes. However, this island, due to its location between Bali and Lombok, is also exposed to very strong currents from the Pacific to the Indian Ocean, and which can generate very strong, sometimes violent, multidirectional currents (including down-currents). Due to the difficult conditions, we often reserve these dive sites for our more experienced divers or for those we already have dived with and evaluated. Nevertheless, when conditions get too rough, there are always other protected dive sites waiting to be explored.
Owing to its placement on the Wallace Line, a biogeographical zone where the biodiversity of Australia and Asia meet and mix together, the biological abundance classifies the location as a "hotspot" of biodiversity, with 250 species of corals and close to 600 species of reef fishes that were recently indexed around the perimeter of Nusa Penida.
Since 2010, Nusa Penida, Nusa Ceningan, and Nusa Lembongan were declared as "Marine Protected Areas," prohibiting all industrial and destructive fishing practices, as well as limiting watersports activities in the area.
Dune Bali's speedboats, Atlantis I and Atlantis II, they leave Bali's private beach in Sanur every day around 8:00 am to complete 2 or 3 dives. Equipped with two Yamaha 250 HP 4-stroke injection outboard motors, our boats can accommodate 14 and 12 divers, respectively. You will arrive at the dive sites in as little as 35 – 45 minutes. All of the dive sites are chosen according to the certification and experience level of the divers present, the weather conditions, and the current. The day includes 2 or 3 dives, lunch served on the boat, along with hot tea or coffee, and snacks.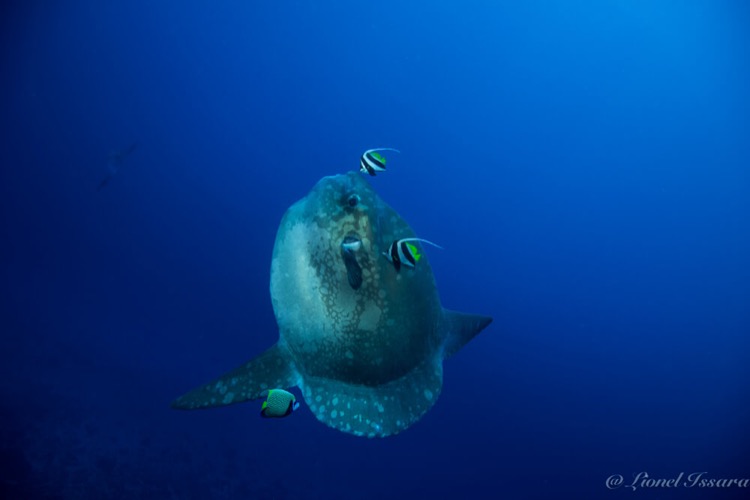 MANTA POINT, MANTA RAYS
This is the must-see dive site for all divers who come to Bali. The Manta ray is a majestic and impressive animal, and seeing it for the first time is a transcending and magical experience. An unforgettable dive is waiting for you!
After following the sheer cliff-faces that characterize the coastline to arrive at the southeast end of Nusa Penida, you enter the mythical dive site of Manta Point. Sitting in 7 metres of water, nestled inside this protected bay, is the Manta "cleaning station" where mantas swim overtop of the same enormous boulder and allow the little cleaner wrasse to eat off the parasites that cover their bodies. The water temperature ranges between 20-24⁰ C and is often rich in plankton. Since the bay is quite large, and at times the dive site can be exposed to large swell, good conditions must be present to make the journey.
The Mantas found around Nusa Penida are classified as Reef Mantas (Alfredi Mantas), and measure 4-5 metres in wing-span, are black on their backs and white underneath (or sometimes black) with black or white markings which allow scientists, and divers, to identify them. They are harmless creatures, feeding on plankton, and giving birth to a single live young, once every two years. Since 2006, they are on the red list of endangered species facing extinction.
CRYSTAL BAY, MOLA MOLA SUN FISH
Crystal Bay is a renowned dive site for being one of the only places in the world to observe the giant Sun fish (Mola mola). These massive pelagic fish, measuring about 3 metres in height, swim up from the deep to be cleaned by banner fishes (species of butterfly fish). Our chances of seeing this amazing fish are greatest between June and October.
Crystal Bay is named for its crystal-clear waters and therefore typically delivers an incredible visibility. Protected from large waves, and accompanied by a beautiful white sand beach dotted with coconut trees, this turquoise colored bay is a slice of paradise. In the middle of the bay is a tiny island with a staircase carved into the rock leading up to a sacred temple. The dives are made around this island, beginning on a sandy slope that guides us down to the edge of a coral plateau, between 6-10 metres deep, before it drops off into a wall that plummets down to 50 metres. You can also find little plateaus, which ends abruptly and drops off again, this time into the depths of the channel that separate Penida Island from Ceningan Island. In front of you is the blue of the ocean and it's here that we have the opportunity to cross paths with the mighty (and harmless) Mola Mola.
This dive site is exposed to very strong and unpredictable currents that can carry divers into the blue and far from the dive site, or to unmanageable depths (down current). To safely dive there, divers must follow some basic rules while diving with responsible dive centers.
Listen carefully and pay attention to the briefing given by your Dune dive guide or instructor, and respect the instructions established
This dive site is to be dived accompanied by an experienced PADI-certified Divemaster or Instructor, and diving without a guide (even if accompanied by a buddy) is prohibited by Indonesian legislation.
The dives made here must remain "no-decompression" dives. If you are unsure what this means, please notify your dive guide so they can explain this to you.
Maximum of 4 divers per dive guide; and for less experienced divers, a ratio of 2 divers per dive guide.
The dive sites and maximum depths are determined by the certification level of the divers, and are at the discretion of the divemaster/instructor, in function of the experience level of the diver, PADI standards, and the conditions of the ocean.
PADI courses are carried out by PADI-certified, and insured, Instructors.
The Dune Bali speedboats are fully equipped with First Aid kit, emergency oxygen, and communication system in case of emergency.
MANGROVE
The dive site Mangrove is situated between Nusa (meaning island) Lembongan and Nusa Ceningan. As its name implies, this site is characterized by an expanse of mangrove and serves an important role in the local ecosystem. The reef and sloping seabed are thick and plentiful with marine flora, completely covered with a multitude of species of coral, sponges, anemones, and a rich variety of animal life. Along a gentle slope that steadily descends to between 8 – 20 metres deep, you and your dive group will drift with the current that varies in intensity from weak to strong. The quality of the reef makes this dive site one of the most beautiful found in the Nusa Lembongan/Penida marine park. Mangrove is also known as a good location for snorkeling.
TOYAPAKEH
At the end of the channel, between Nusa Ceningan and Nusa Penida, we arrive at the dive site Toyapakeh. Semi-protected from the currents arriving from the strait of Ceningan, this is a superb site with large prominent boulders and very particular and uneven coral formations. Between 6 and 15 metres, a coral plateau stretches out and then drops off to an abrupt wall that descends down to about 30 metres. Most often this is a drift dive that will sail people through a multitude of marine life and unbelievable corals, crossing paths with pelagics, including the Mola mola. Even in the shallows, thousands of juvenile fish take shelter amidst the coral reef.
SD, PED, SENTAL
On the north coast of Nusa Penida, the seaweed farmers live along a white sand beach stretching the length of the coast, while beneath the surface the coral reef runs parallel to this magnificent panorama. Choosing one of the several dive sites available, we descend just in front of a primary school (Sekolah Dasar) to dive the SD wall, or in front of a temple to dive the Ped wall, or a bit further we can find the dive site Sental. These sites are topographically very similar; all are characterized by a sloping wall that sinks out towards the dark blue of the ocean and the atmosphere is extraordinary.
Once your group is ready, time to descend! Let go of the line and everyone takes off for an extreme rock'n'roll drift dive! Open your eyes; look all around, lay back as if you are in a big comfortable chair–including footrest–and don't move. A festival of colors and emotions will take your breath away, schools of blue (red-toothed) triggerfish bear their teeth and dart about in all directions, hundreds of yellow butterfly fish forage for food and refuge amongst the lettuce corals; drift past giant, current-blown sponges and disproportionately large whip corals as schools of bat fish fly past and ornament the landscape.
BLUE CORNER
As its name implies, Blue Corner is a dive in the blue where you're projected at full speed over an impressive underwater relief. This is Bali's dive that will send shivers down your spine; one that we all dream about in secret but can barely dare to jump from the boat. If conditions allow, the Dune instructors and dive guides will take you on this great adventure!
Quickly! Everyone must jump and fin kick in a head-down descent as fast as possible in order to reach the wall that descends to depths of 30 – 40 metres. Over an abrupt slope, the dive truly begins as you let yourself drift with the current to experience the intense sensations and to enjoy the surroundings that guarantee a show.
Schools of eagle rays do flips in the current, fish speed by single-file lines, tuna and other large fish observe you from afar, sharks rest idly while swimming into the current, and there's a good chance to see a Mola mola (Sun fish) between the months of June and October.
BALI MALIBU POINT
This scuba diving site which is located on the east coast of Penida is much like the north coast sites, except the visibility which is generally a bit better. Unfortunately in this Bali dive spot, the current is even fiercer and trickier than in the north. This nice site has one or two knots currents. The port Jackson shark feeds on echinoderms and other bottom dwelling invertebrates. It grows to a bit over a meter long. The heart of the Malibu point Bali diving is off the village of Suana. Because of the bommies, this Bali diving location is almost always diveable. In fact, the currents are probably ideal there, with enough movement to keep the fish swimming around. On the below side of Malibu point is a shark area where you can't really miss the big animal. The bottom goes to rubble, and soon you reach an area where even the sand is disappearing and the bottom is scoured stone.
BALI GAMAT BAY
The conditions do sometimes not allow Scuba dive here. However, if they are favorable, you will be treated with an exceptionally rich & colorful reef and a great diversity of vertebrates and invertebrates. The topography is composed of slopes, caves and crevasses. The current here is very powerful.