Padang Bai Dive Site
Situated on the east coast of Bali, about one hour from Sanur (Denpasar), Atlantis International will take you to the lively seaside village of Padang Bai. There you will find tourists, overloaded with heavy backpacks and suitcases, or donning neoprene wetsuits, who wait patiently for the ferry to Lombok and Gilis, or for the small sampan and jukung traditional boats to head out to the big blue.
Facing the ocean, our partner restaurant welcomes you with all its amenities (toilet, shower, table space for cameras), and is conveniently located just a few steps away from the white sand beach where the sampan are jukung traditional boats are moored up in the shallows. In just a few minutes boat ride, the turquoise water reveals the charm of the dive site called Blue Lagoon.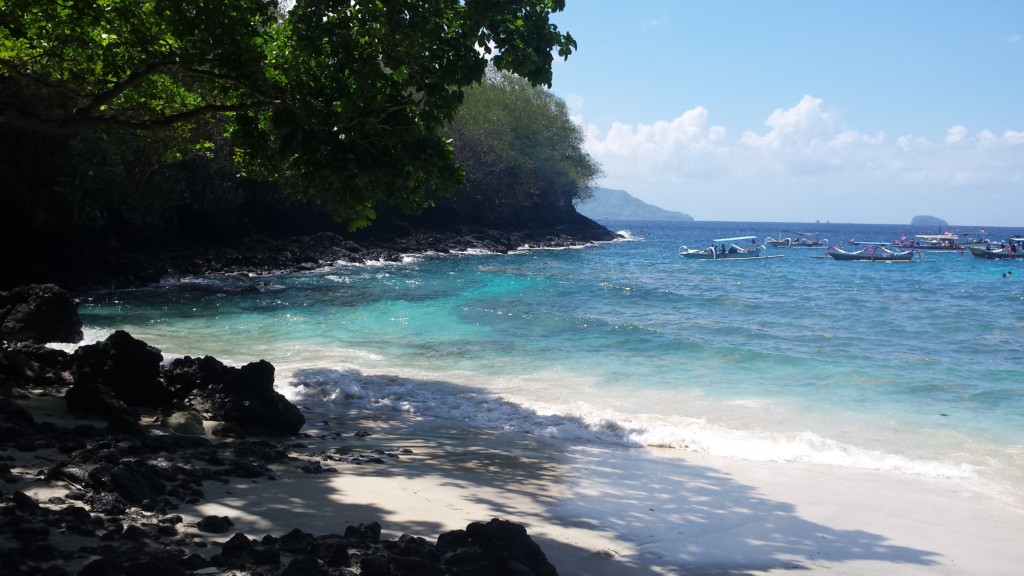 BLUE LAGOON
Blue Lagoon is known as an excellent location for beginners and snorkelers, but is also an ideal dive site for all levels of divers. Whether it's your first time or your 1000th time underwater, this protected bay has something for everyone. The dive begins on a plateau of sand at about 5 metres depth, from where you descend along a sandy slope towards a depth of 20 metres. Leaving the sandy area, we arrive to an area of scattered reef, coral bommies, rocks, and table corals where the marine life is abundant.
Just where the bay ends, a beautiful wall begins and leads us along the coastline. Feather stars (crinoids) color the wall and a diversity of crustaceans hide in and around the crevices of the reef.
Here we also offer night dives where you're likely to see crabs, shrimps, cuttlefish, Spanish Dancer, mollusks, morays, and more.
JEPUN
This dive takes us down to the small wreck of a speed boat measuring 12 metres long, still intact and sitting upright on the sea floor. A bit further away, we find an artificial reef revealing extraordinary creatures such as frog fish, leaf scorpion fish, boxfish, and diverse species of nudibranch.
Don't be surprised by the strange revving of a motor coming from overhead. Odyssey, the mini submarine, carries tourists around on underwater tours. If you'd like, feel free to wave or blow bubbles at the large eyes behind the port holes….and no, we're not joking!
JETTY
One of the most incredible dives to be done in Bali! At first glance the site may not be very convincing, as we take you beneath an enormous, and now abandoned, concrete pier that used to serve as the launching and docking site of a large ferry. However, once you look past the detritus and trash that floats about and covers the sandy bottom, you will be amazed!
This is where we encountersea creatures so strange that it might be hard to believe they exist. This is called a "muck dive". The sunlight passes between the soft coral and gorgonian-covered concrete pillars, trevally hunt and chase around enormous schools of sardines, schools of batfish swim counter-current, and schools of bannerfish populate the surroundings. Other oddities can be found including the scorpion fish that are endemic to Indonesia , the famous weedyrhinopias and lacy rhinopias (rhinopiasfrondosa and aphanes, respectively), varieties of frog fish (giant, warty, and painted), flying gurnard, demon stinger or devil stinger, dragonets, stonefish, bent stick pipefish, nudibranch, cuttlefish, and seahorse.
This is an incredible dive for photographers and lovers of marine biology.
TANJUNG SARI – PADANG BAI
Tanjung Sari Bali diving is also a diving channel which is located in Padang Bai. Snorkeling, diving, and even fishing are mostly haunting activities in this Bali dive spot. And this Bali diving location is also a good starting point to experience diving. Due to its depth beyond 25 meters, there are vary gorgeous fishes and others sea creatures.

This Bali dive site is located north-east of Padang Bai and is available for beginners and expert divers. Within 3 until 5 meters depth you can exercise your buoyancy first on a sandy slope. In 20 meters depth, all Bali diving's enthusiasts will be able to visit sleeping reef sharks. Otherwise if you want to meet mola-molas, gorgonians, shrimps, prawns, sweetlips, perch, scorpion fish, frog fish, the blue and yellow striped ribbon eel and lots of colourful nudi branches you need to go deeper. A variety of healthy hard and soft corals tend to stay in these Bali dive locations. The largest fish on Indo-Pacific reefs, Napoleon is often seen there. A lot of smaller critters are also enabling to find in this diving Bali site. One of many reasons what makes Tanjung Sari Bali diving attractive is due to its diversity in every depth. But you still have to pay attention with the changing of water movements. Definitely, this Bali dive spot won't make divers and photographers bored.