Venture Into the Pristine Water of Alor.
Experience a Magical Journey with Dune Aurora Liveaboard.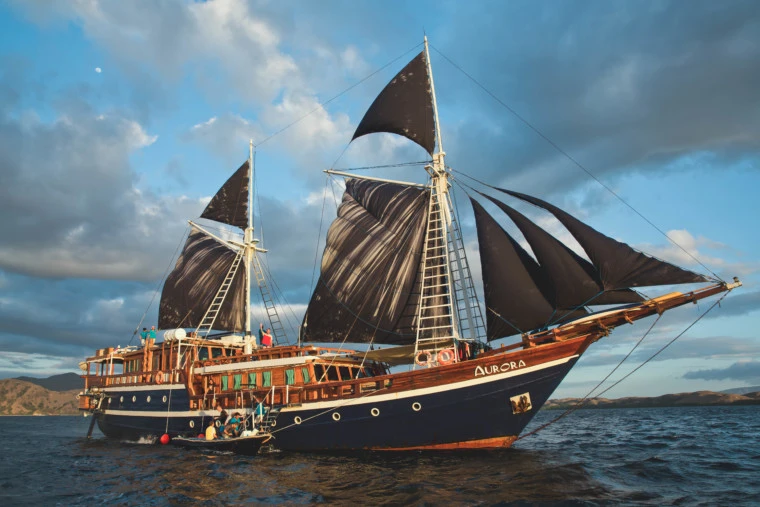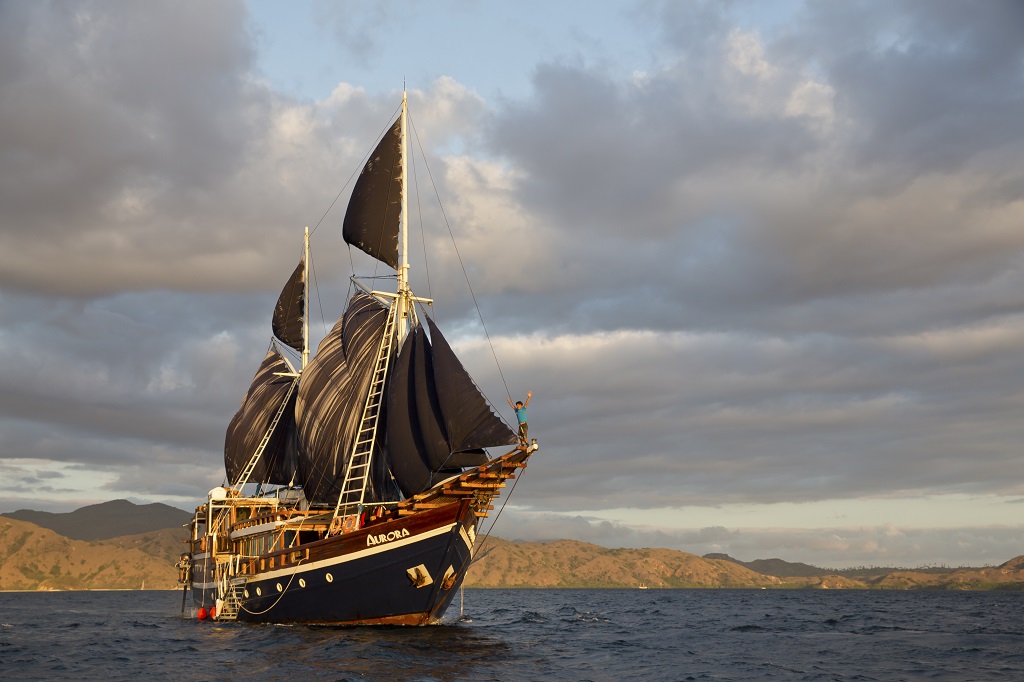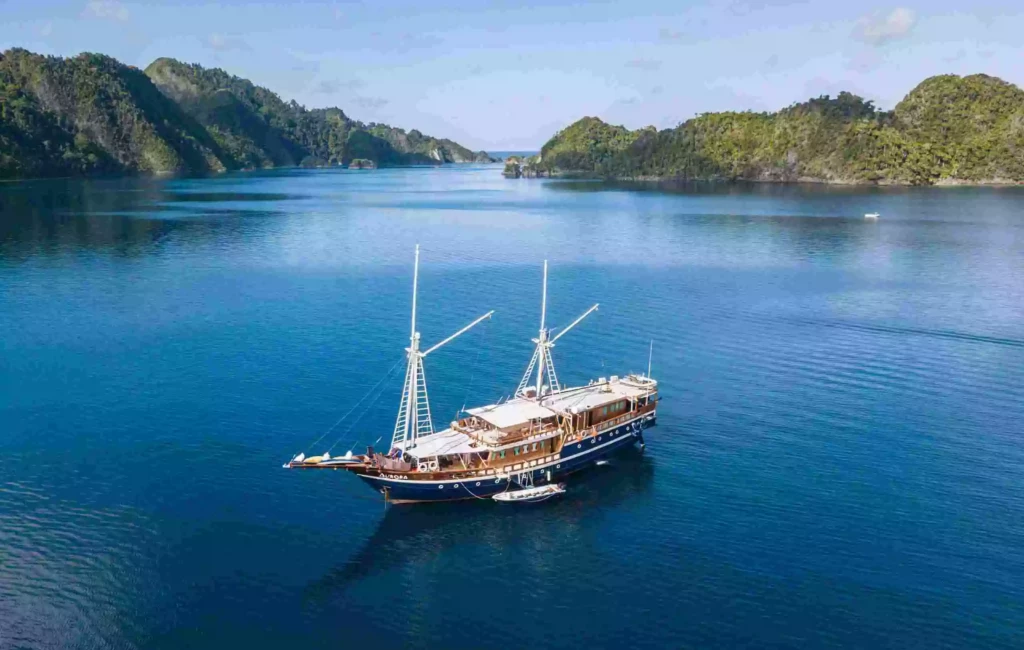 Experience the beauty and comfort of the Aurora Liveaboard, a luxurious and traditional phinisi boat. Our vessel features spacious cabins, each with air conditioning, en-suite bathrooms, and stunning views of the ocean. Relax and unwind in the comfortable lounge area, equipped with a TV and entertainment system, or take in the breathtaking views from the expansive deck.
Our experienced crew will take care of your every need, ensuring that your stay on board is a memorable one. From the delectable cuisine to the personalized service, we guarantee an unforgettable liveaboard experience.
Join us on board the Aurora Liveaboard and discover the wonders of Komodo in style and comfort.
Itinerary: Discover the World's Richest Marine Biodiversity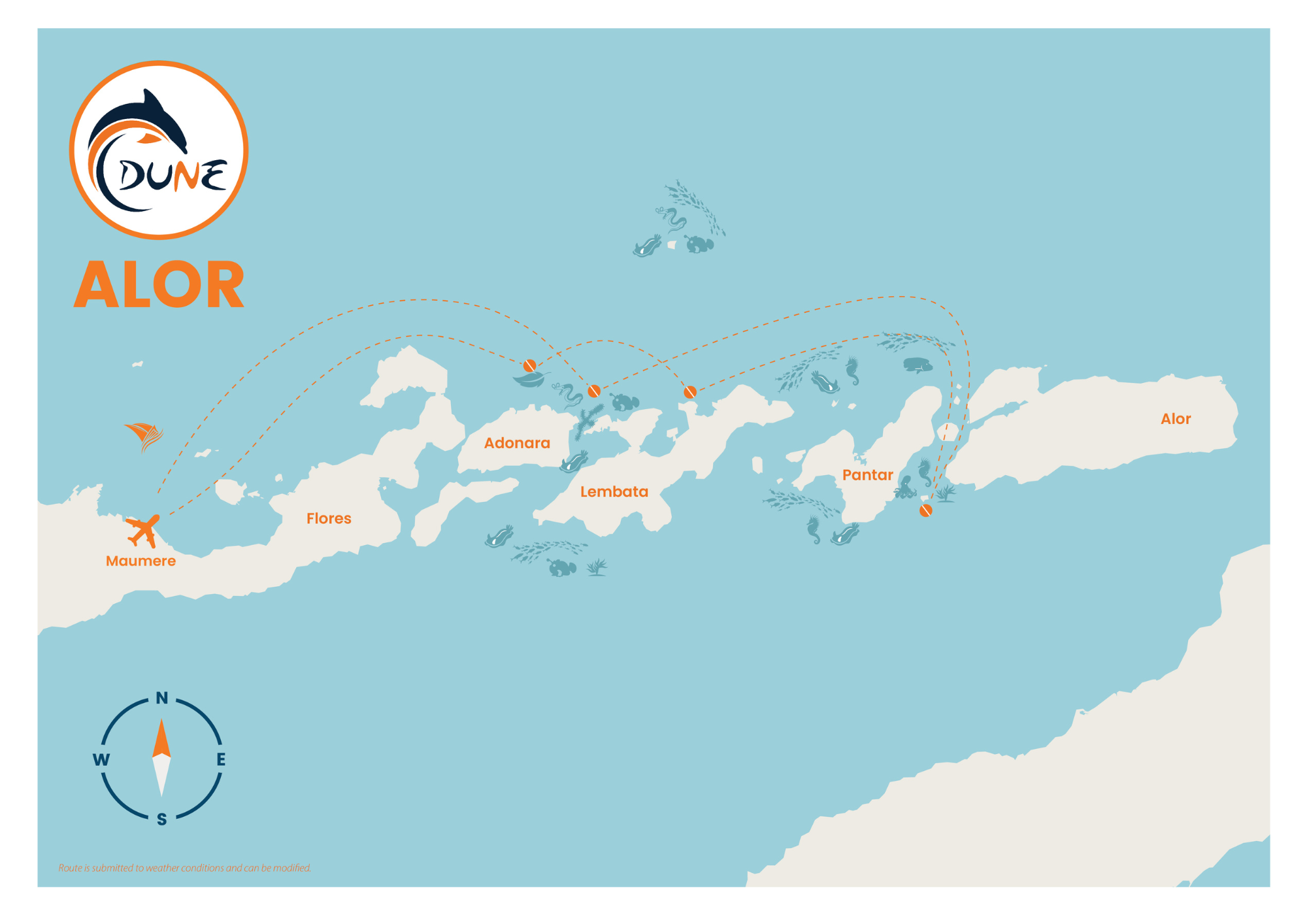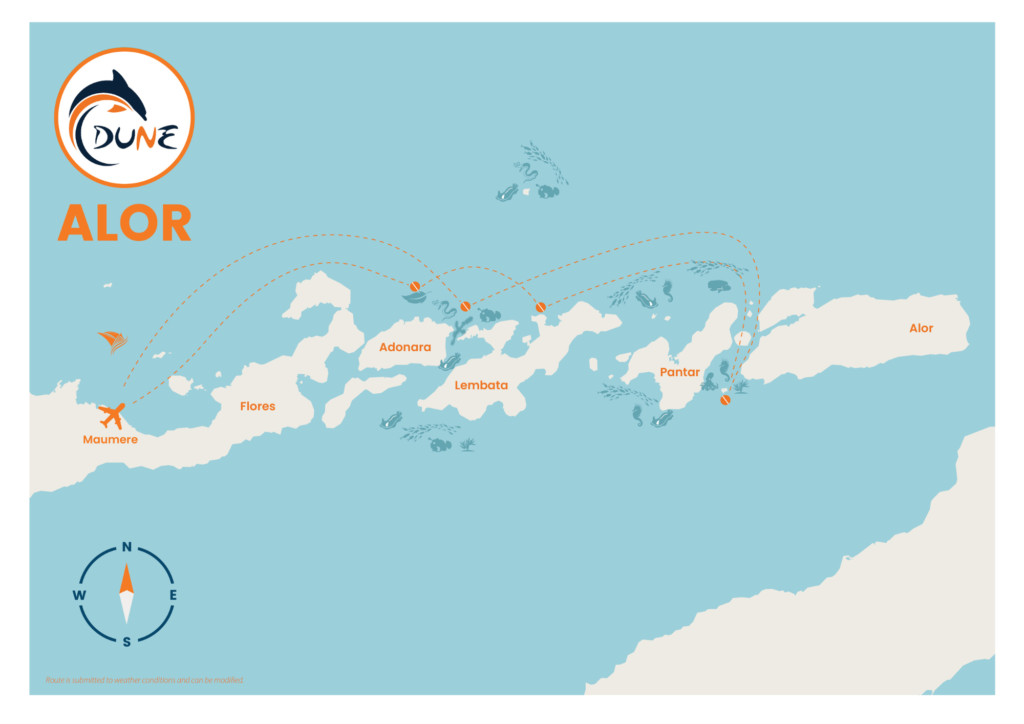 Day 1: Maumere
Our staff will pick you up at the airport for immediate boarding. From Bali or Jakarta, flights usually arrive early in the afternoon. As soon as all the guests are on board, we will lift the anchor and sail to the eastern region of Flores.
Day 2: Kawula
This dive site is a mixture of reef and white sandy slope full of amazing critters. Here we have another chance to see the allusive Rhinopias camouflaged in the coral slope. This is a perfect environment for different kinds of ghost pipefish including the very rare Halemeda ghost pipefish. Wunderpus and blue ring octopus were spotted here before. During the night dive juvenile brown-banded bamboo sharks, Helmut flying gurnards and frogfish crawl around the darkened site. A full day can easily be spent here in order to discover all the wonderful creatures.
Day 3: Pantar
You will arrive on the island of Pantar. The famous site Alcatraz will enchant you. Immerse yourself in a giant soft red coral forest and observe the different species, reef fish, moray eels, octopus and giant puffers.
Between the dives we can go for a walk and visit the hot springs on the beach.
Beang Abang: another highlight for macro lovers. Look for seahorses, nudibranchs, Rhinopias and several types of octopus like the wonderpus in the black sand.
Day 4 to 7: Alor & Kalabahi
Majestic drop-offs, coral reefs and abundant marine lives. Something for everyone! As currents here tend to be very fast, encounters of any kind can happen, from pelagics to Mola Molas. Sightings of whales and dolphins on the surface are quite common.
In the Bay of Kalabahi, beautiful muck night dives are to be expected.
Day 8: Komba volcano
Have you ever dived a volcano? Here's your chance! The active Komba Volcano is one of the worlds most diverse sites, possessing a world-famous black sand volcanic reef. During your volcano diving experience, you will notice it has a constantly bubbling bottom. This attracts a huge variety of biomass. From weird and wild critters that inhabit the ocean floor to "black coral" which actually comes in a variety of different colours. It's black backdrop provides the ideal setting for the rainbow of colours provided by the marine life and corals. Simply said, the volcano diving makes for the perfect muck dive. It's an underwater macro photographer's dream, where one can often see Pygmy Seahorse, Nudibranch, and Frogfish.
Day 9: Kawula
You will explore today another part of Kawula. In the western, lies a huge bay, partially covered with mangroves. World class "muck dives" with lots of macro, ghost pipefish, frogfish and flying gurnard. The night dives are not to be missed, abundant wildlife with numerous shrimps, crabs and Spanish dancers.
Day 10: Maumere
After a nice breakfast on board, our Aurora crew will organize, according to your flight schedules, your transfer to the airport of Maumere.
Unfortunately, our trip will arrive at an end and we have to say goodbye but we hope to see you again on board.
Why Choose Us: Unmatched Expertise and Service
We are well-known for our flexible liveaboard diving safaris and trips as well as for the quality of our services. Our goal is to satisfy your curiosity and offer safe dives, a friendly environment and to share our spirit based on exchange and fellowship.
Explore More, Spend Less.
Book one spot, get 50% off the second. Book two spots, get one free.
Reviews and Testimonials: What Our Customers Say About Us
Book Your Alor Liveaboard Trip Now.
Embark on an Adventure of a Lifetime, Book Your Alor Liveaboard Trip Today and Discover the Best Dive Sites in Indonesia!