Explore the Natural Wonders of Komodo.
Embark on a Scuba Diving Journey to Komodo Island's Underwater with Dune Aurora Liveaboard
Our Scuba Diving Liveaboard Vessel to Komodo Island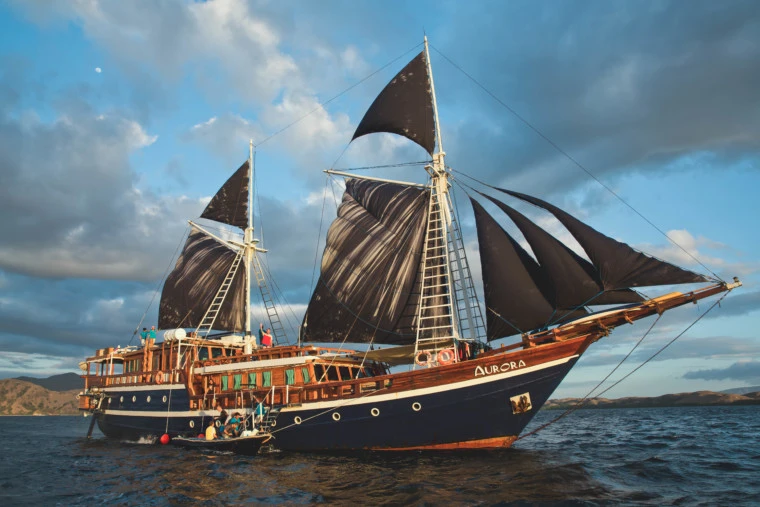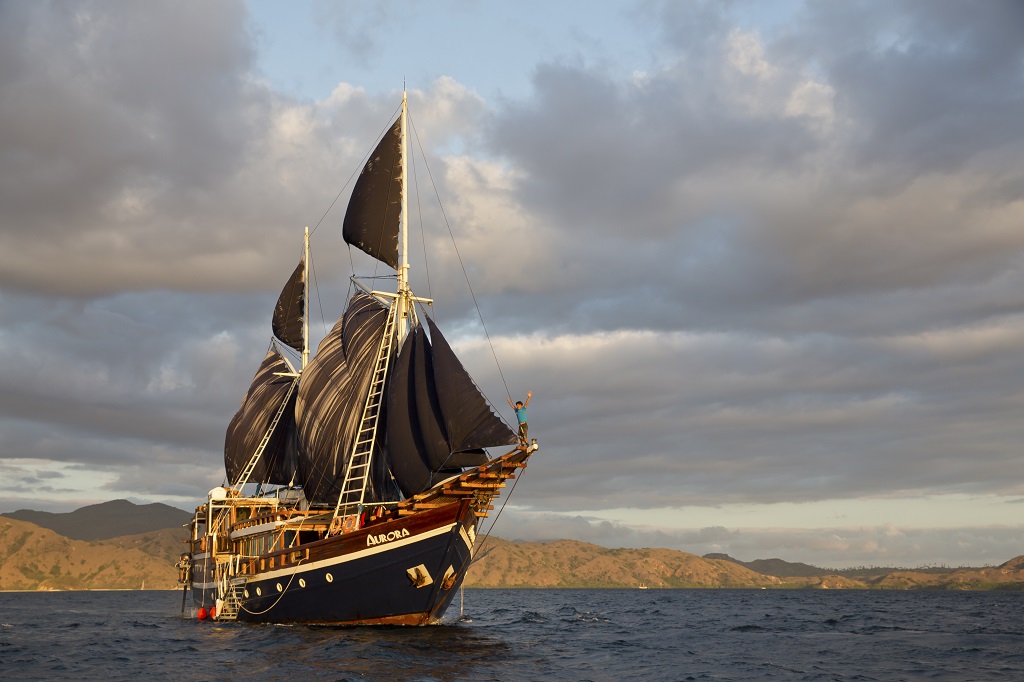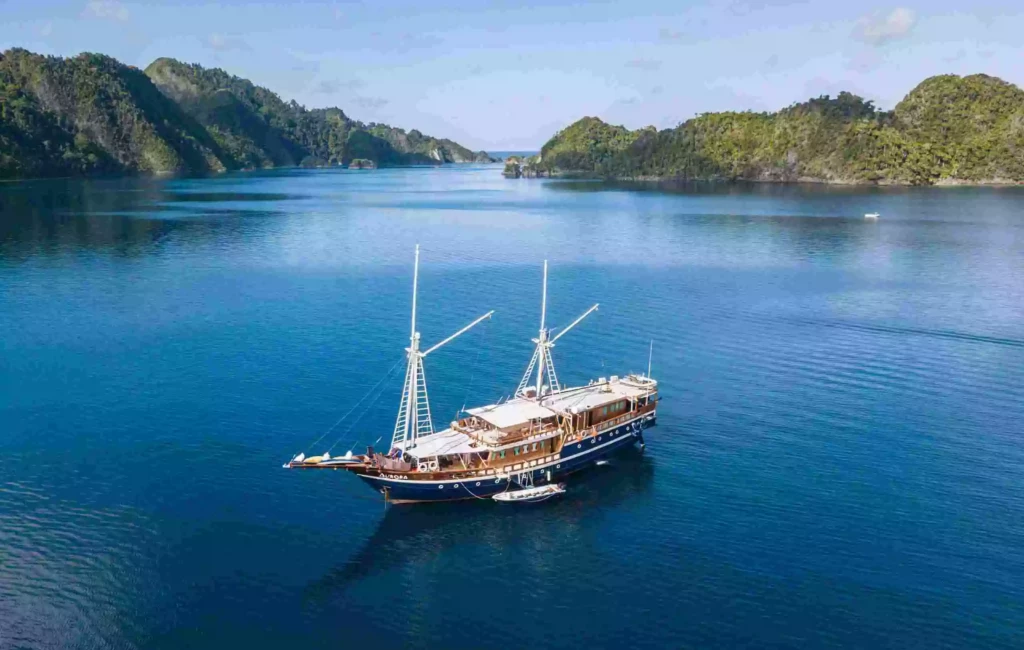 Experience the beauty and comfort of the Aurora Liveaboard, a luxurious and traditional phinisi boat. Our vessel features spacious cabins, each with air conditioning, en-suite bathrooms, and stunning views of the ocean. Relax and unwind in the comfortable lounge area, equipped with a TV and entertainment system, or take in the breathtaking views from the expansive deck.
Our experienced crew will take care of your every need, ensuring that your stay on board is a memorable one. From the delectable cuisine to the personalized service, we guarantee an unforgettable liveaboard experience.
Join us on board the Aurora Liveaboard and discover the wonders of Komodo in style and comfort.
Itinerary: Witness the Majestic Komodo Dragons from Komodo Liveaboard and More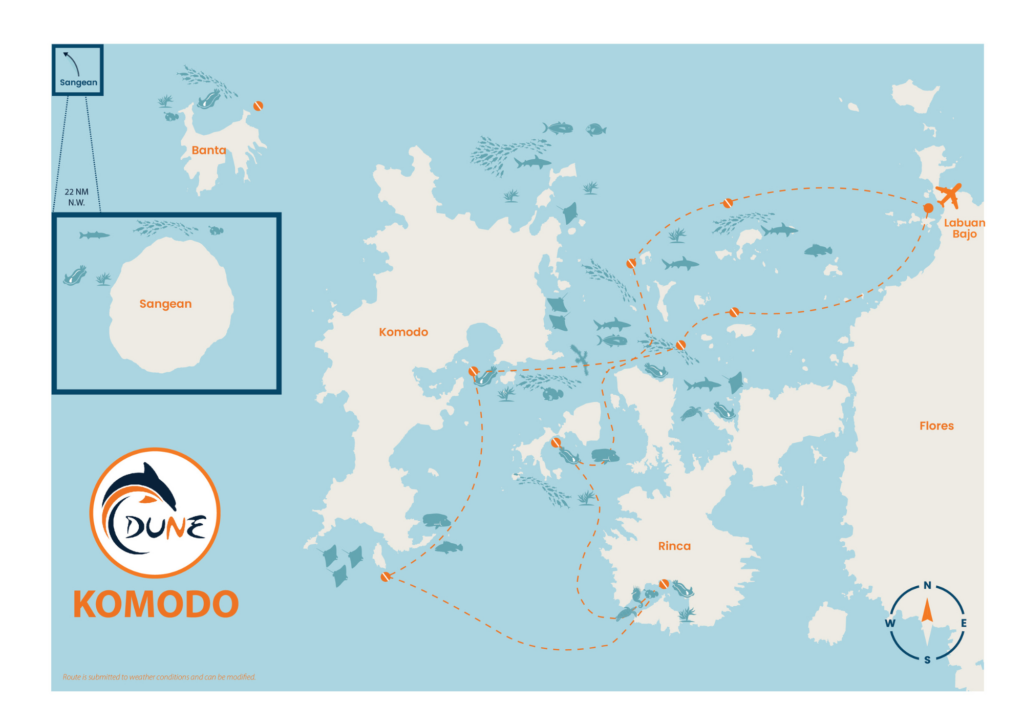 Day 1: Labuan Bajo
After a one-hour flight from Denpasar (Bali) you will arrive in the small port town of Labuan Bajo, Flores. Our Aurora staff will pick you up at the airport for immediate boarding and departure to our first dive site. Only a few miles from Labuan Bajo's harbour lies the small island of Sebayur with a nice dive including marbled hatchetfish, lionfish, eels and possibly the resident ghost pipefish. The perfect "warm-up dive". On the neighbouring reef, nudibranchs, pipefish, sea fans, sponges and scorpion fish. During the night dive you might see carpet sharks, nudis and crustaceans.
Day 2: Gili Lawah Laut
Gili Lawa Laut ,"Island Facing the Sea", is home to two of the best pinnacles in all of Indonesia, "Crystal Rock" and "Castle Rock". Huge schools of jacks, giant trevally, white tip and grey reef sharks, barracudas, dolphins and a whole host of smaller reef fish that float amongst the fields of staghorn coral. A challenging site, but certainly worth a couple of dives!
Day 3: Gili Lawah Darat
Discover the famous dive known as "Shot gun", kind of a pot, where the current attracts pelagic, sharks, trevally, tuna and sometimes Mantas. Do not miss!
The night dive named "Flamenco Show", the Spanish dancer and macro.
Lighthouse Reef: a nice dive site with hard corals and lots of bushes of black coral
Day 4: Komodo Channel
The channel located between Komodo Islands and Rinca offers plenty of diving spots, to enjoy healthy coral reefs and the beautiful diversity of marine life.
Day 5: Padar
Unique species of nudibranchs. The coral pillars, which sit in a strange "W" shaped configuration, are literally alive with colour. Holothurians cover almost every bare surface. Lionfish and Napoleons populate the tops of the pillars. Subject to strong currents and an almost permanent surge, this can be a challenging yet beautiful dive. A quick hike up the gentle slopes of Padar provides an outstanding view of both Komodo and Rinca.
Three Sisters / Tiga Dara: rocks nicely covered with corals and just teeming with life. You will dive sheltered from the current and finish on the peaks that rise up to 8 meters.
Day 6: South Komodo/Rinca
Manta Alley as its name indicates is home to an amazing dive site where encounters with Manta rays are possible . Located in the southern part of komodo island. We will try our luck to see this majestic creatures .
Horseshoe Bay is shaped like its namesake, with Rinca Island forming the outer arc and Nusa Kode forming the inner one. The colder plankton-rich waters of the Indian Ocean make this area a bit colder than the northern regions of the Park. The sea-life gets everyone into the water.
Cannibal Rock, a small submarine ridge. The reef-top is littered with feather stars, brittle stars, sea cucumbers, anemones and all kinds of corals. The deeper rocks provide hiding places for nudibranchs, frogfish and even rhinopias.
Torpedo Alley, named after the electrified rays, hosts also ghost pipefish and other extraordinary creatures.
Day 7: North Rinca/Loh Buaya Trekking
Stop near the "Second Ranger Station Loh Buaya", next to "Wainilu Island", the paradise of macro. Many different and rare kinds of nudibranchs, ghost pipefish and other surprises.
After lunch, we will begin our magnificent walk on Rinca Island to see the infamous Komodo dragons and we will be back in the water by noon.
Day 8: Labuan Bajo
After a nice breakfast on board, our Aurora crew will organize, according to your flight schedules, your transfer to the airport of Labuan Bajo.
Unfortunately, our trip arrived at an end, and we have to say goodbye, but we hope to see you again on board.
Why Choose Us: Unmatched Expertise and Service
We are well-known for our flexible liveaboard diving safaris and trips as well as for the quality of our services. Our goal is to satisfy your curiosity and offer safe dives, a friendly environment and to share our spirit based on exchange and fellowship.
Explore More of Komodo, Spend Less Money.
Book one spot, get 50% off the second. Book two spots, get one free.
Reviews and Testimonials: What Our Customers Say About Us
Book Your Dream Komodo Liveaboard Experience Now!
Book Now and Experience the Adventure of a Lifetime – Secure your spot on our Komodo liveaboard and get ready for the diving adventure of a lifetime!