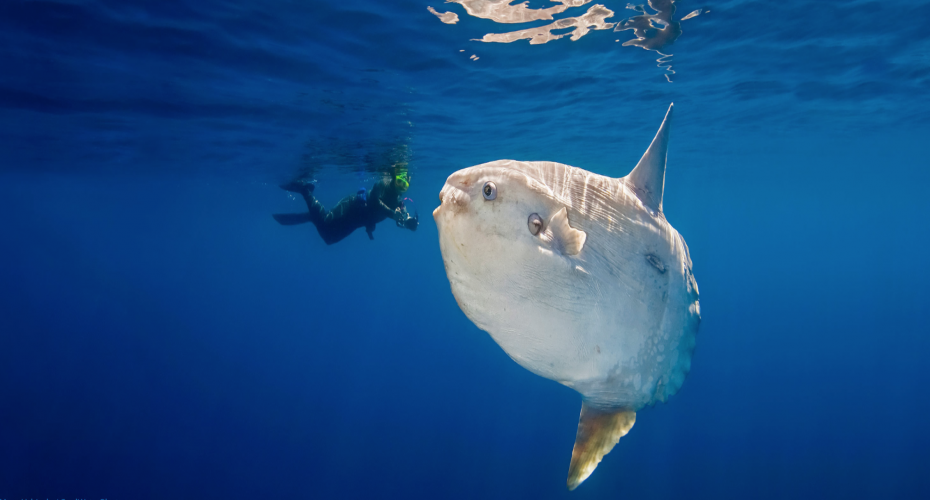 The Mola Mola (Sunfish) is a very unique looking fish. The fish is higher than his length, and it doesn't really look like a usual fish. Because of the strange looks of the Mola Mola he has therefore has several names. Besides Mola Mola, he is also known as moonfish, but also as sunfish. A Mola Mola can grow up to 3 meters high because of its high fins, Imagine that!
Bali is the perfect place to spot the Mola Mola, as this is a "cleaning station" for the Mola's. Here comes the warm current of the Indian Ocean along with the cold currents from the South Pole and Australia, a favorite temperature for the Mola Mola, who have their bodies cleaned by the small cleaning fishes in these waters. The Mola's also share these seas with white tipped reef sharks, nurse sharks, hammerhead sharks and large Manta Rays.
The Mola Mola fishes can be found all year around Bali but especially during the Mola Mola season! The Mola Mola season is from July until November due to the water temperature drop during these months. These fishes use Bali as a cleaning station since here are many cleaning fish which eats all the Parasites of the Mola Mola.
The Mola Mola might be one of the most heaviest (bone)fish on earth but they only thing they eat are Jellyfish, small fishes, squid and crustacean!
So come and dive with Dune Atlantis and hopefully you will spot one of these unique fishes!