Discover Raja Ampat's Underwater Wonders.
Experience the ultimate diving adventure in Raja Ampat with Dune Aurora Liveaboard.
Our Liveaboard Vessel to Raja Ampat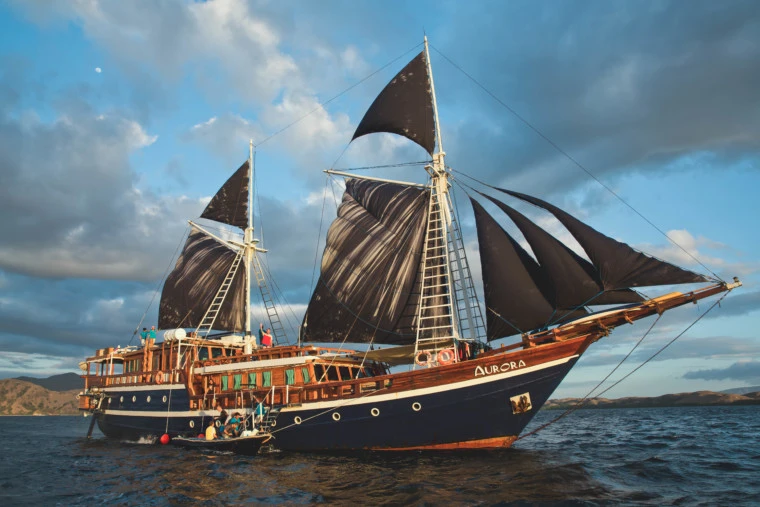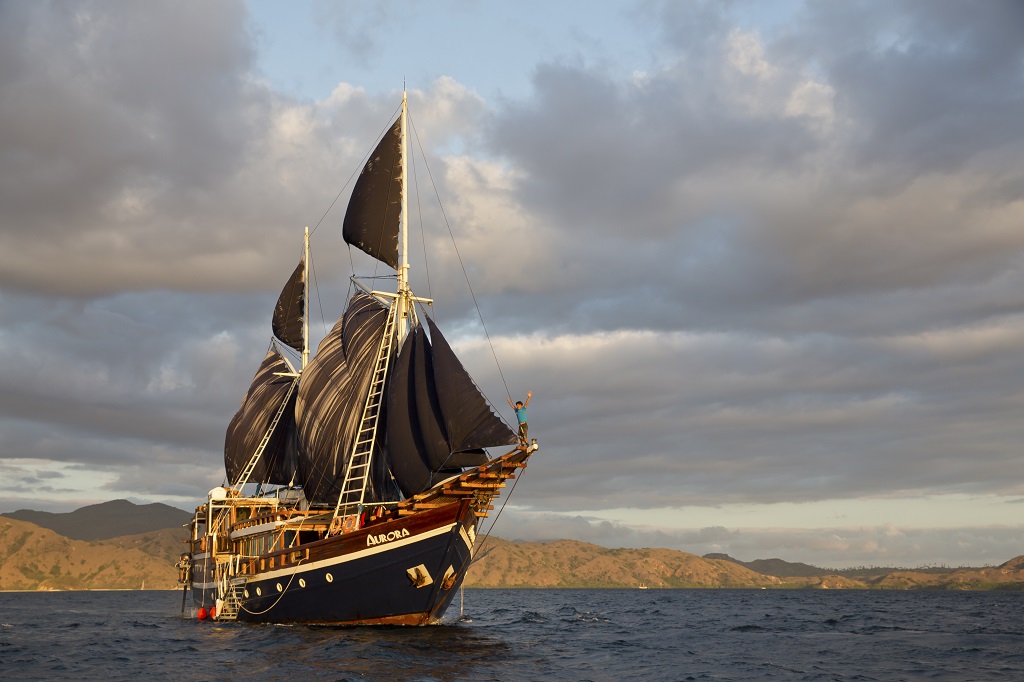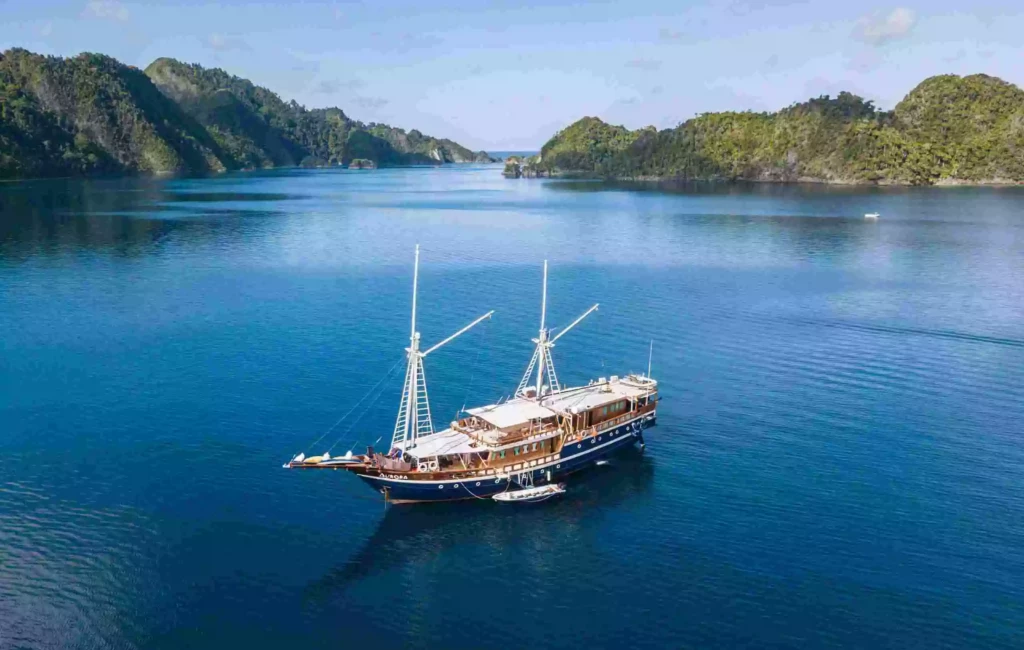 Experience the beauty and comfort of the Aurora Liveaboard to Raja Ampat, a luxurious and traditional phinisi boat. Our vessel features spacious cabins, each with air conditioning, en-suite bathrooms, and stunning views of the ocean. Scuba dive in Raja Ampat, relax and unwind in the comfortable lounge area, equipped with a TV and entertainment system, or take in the breathtaking views from the expansive deck.
Our experienced crew will take care of your every need, ensuring that your stay on board is a memorable one. From the delectable cuisine to the personalized service, we guarantee an unforgettable liveaboard experience in Raja Ampat.
Join us on board the Aurora Liveaboard and discover the wonders of Raja Ampat LOB in style and comfort.
Itinerary: Discover the World's Richest Marine Biodiversity in Raja Ampat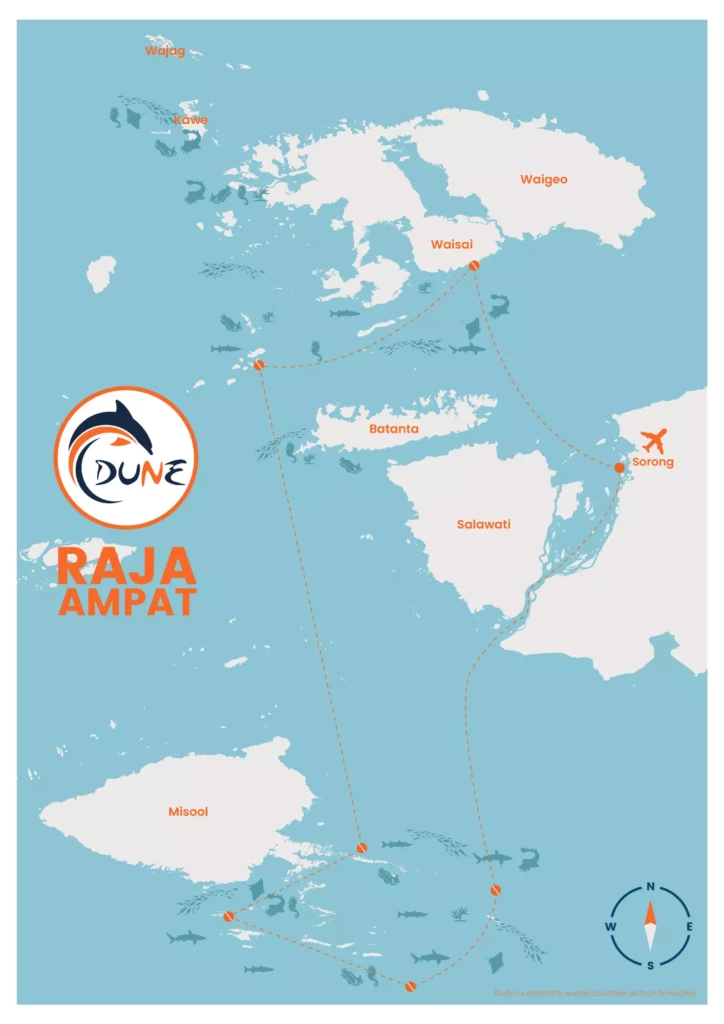 Day 1: Sorong
Our staff will welcome you at the airport and you will start your experience on Aurora. From Jakarta or Makassar, flights usually arrive early in the morning. As soon as all the guests are on board, we will lift the anchor and start our trip to the island of Waigeo.
Day 2 to 3: Dampier Strait
Gili Lawa Laut ,"Island Facing the Sea", is home to two of the best pinnacles in all of Indonesia, "Crystal Rock" and "Castle Rock". Huge schools of jacks, giant trevally, white tip and grey reef sharks, barracudas, dolphins and a whole host of smaller reef fish that float amongst the fields of staghorn coral. A challenging site, but certainly worth a couple of dives!
Day 4: Penemu
"Melissa's Garden" will be one of the beautiful reefs We will visit today. Wobbegong sharks are one of the highlights here. Sea snakes, pygmy seahorses and huge tridacnaclams can be seen also in the shallow waters. We will have the opportunity to step out of the boat for a walk to see one of the most icon views in Raja Ampat, It is selfie time !
Day 5: Farondi
Wake up in the Misool National Park, an area with thousands of islands. Here you will be able to see wide varieties of fish, soft and hard corals, all kinds of macro, wobbegong and bamboo sharks. Misool is also one of the rare places, where the landscape is absolutely wonderful. Do not miss the show of the mobulas feeding on schools of silversides!
Day 6-8: Misool
So many Islands to visit and so many different dive spots. We will cruise around JILLIET, FIABACET, WALIB, WAJIL, JEF PELE, BOO between others, where Aurora Crew will assure you as many dives as possible to completely appreciate this wonderful and beautiful area.
Day 9: Daram
This group of Islands just in the border of Misool Marine park is the perfect spot to make 2 morning dives and say good bye for this time to Raja Ampat and sail back to Sorong
Day 10 : Back to Sorong
After a nice breakfast on board, our Aurora crew will organize your transfer to the airport of Sorong, according to your flight schedules.
Unfortunately our trip will arrive at an end and we have to say goodbye but we hope to see you again on board.
Scuba Dive in Raja Ampat: Home to Unique Species
Raja Ampat is home to an incredibly diverse range of marine life, and scuba diving is the best way to witness it firsthand. With over 1,500 species of fish and more than 500 species of coral, Raja Ampat dive sites are some of the most spectacular in the world. From the colorful soft corals of Raja Ampat diving spots to the majestic manta rays and elusive pygmy seahorses, there is an abundance of unique and special species to discover.
Scuba diving in Raja Ampat is a once-in-a-lifetime experience that should not be missed. Our liveaboard takes you to the best Raja Ampat scuba diving locations, where you can explore the vibrant reefs, encounter schools of fish, and spot rare and exotic creatures. With our expert guides, you will have the opportunity to see everything from the majestic Wobbegong shark to the tiny nudibranch, making your Raja Ampat diving experience truly unforgettable.
Why Choose Us: Unmatched Expertise and Service
We are well-known for our flexible liveaboard diving safaris and trips as well as for the quality of our services. Our goal is to satisfy your curiosity and offer safe dives, a friendly environment and to share our spirit based on exchange and fellowship.
Explore More, Spend Less.
Book one spot, get 50% off the second. Book two spots, get one free.
Reviews and Testimonials: What Our Customers Say About Us
Book Your Raja Ampat Liveaboard Diving Trip Now.
Book Now and Experience Scuba Diving as the Adventure of a Lifetime – Secure your spot on our Raja Ampat liveaboard and get ready for the Scuba Diving adventure of a lifetime!